Breaking Down Barriers, Independent Living Resource Centre (ILRC) opened its doors on February 25th, 1985 as a Resource Centre for people with disabilities.
We were the first to establish an information and referral service for individuals with diverse disabilities in the Georgian Triangle area. The organization was founded by a group of caring citizens- Kathryn Bloomfield, Betty Meacher, and Chris Boukamp, who believed those living between Barrie and Owen Sound needed a place to turn to for assistance when addressing individual needs and issues related to living with their disability.
Few know that in our early years our doors opened, closed and reopened again a number of times dependent on funding. We are grateful for a community that has stood with us to overcome difficulties and to share successes on our journey. We have grown overt 37 years and have the designation of being one of only 24 accredited Independent Living Centres in the country. Our full service now extends across Simcoe, Grey and Bruce Counties offering independent living skills training, peer support programs, supports, services, referrals and Direct Funding, Self-Managed attendant opportunities. We are a focal point in communities supporting choice and control over decision making.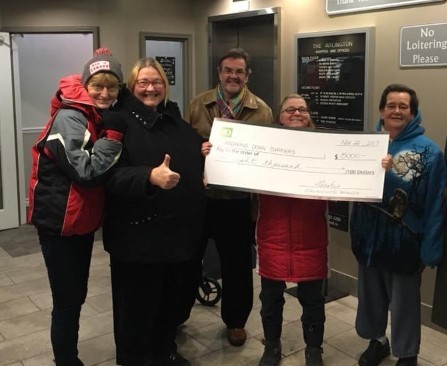 Our community-based supports, services and programs makes Breaking Down Barriers a resource centre individuals and their families can turn to. We look forward to another 37 years enabling and supporting people with diverse disabilities and their support network to participate without barriers in all aspects of society.